How UK government colluded in torture to seal Tony Blair's 'deal in the desert' with Gadaffi
His cell is a living coffin. Stretch your hands out and your fingers trail against both of the side walls. Turn your body around and your fingers are tantalisingly close to the back wall and the metal cell door.
In the heat of the Libyan summer the concrete walls baked like a furnace radiating heat, 130F degrees plus, into the airless cell. In the winter, in freezing temperatures, rain poured through the open roof grille soaking the two filthy blankets given as a bed. And then there was the solitude.
For one year Abdel Hakim Belhaj was entombed as the only prisoner in the solitary confinement block deep inside the Gaddafi regime's notorious Abu Salim prison. His only human contact was the twice-daily visit by the guard to drop off food.
Violently treated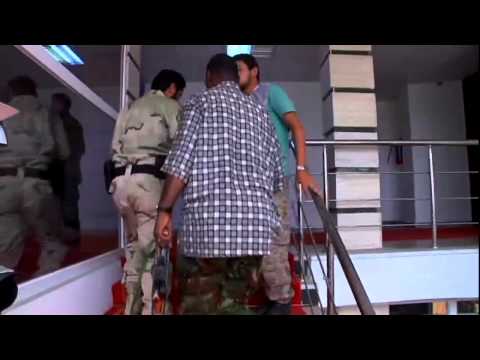 But outside the cell was worse. "When I was taken out of the cell for interrogations I was treated very violently. I was blindfolded and handcuffed with my hands tied behind my back. I was often beaten in these small corridors. It depended on the shifts of the guards.
"Some took pleasure in treating us badly or if they were pressurising us to say something they want. Sometimes they would make me stand hooded for long hours in the blazing sun and I would long to be back in this cell despite knowing how hard it was just to be here. It was my sanctuary.
"In the cell I used to spend the time reading the Koran and waiting, waiting for the hope that didn't go away, that God Almighty will take away this suffering. I thank God I survived to take back my freedom."
Abdul-Hakim Belhaj's crime is clear. As the exiled leader of the militant Libyan Islamic Fighting Group (LIFG) Belhaj was a sworn enemy of the Libyan tyrant Muammar al-Gaddafi. Mr Belhaj therefore deserved to die. So along with the routine beatings, torture and brutal interrogations during his five years of imprisonment, Mr Belhaj was also formally sentenced to death after a 15-minute court hearing.
'Delivered to torturers'
What is less clear, though, is the role of MI6, and Tony Blair's government, with the CIA's help, in the kidnap of Mr Belhaj and his pregnant wife Fatima Boucher from Malaysia in March 2004 which delivered them into the hands of Gaddafi's torturers.
Through his English lawyers Leigh Day & Co, Mr Belhaj is now suing former Labour foreign secretary Jack Straw, the then deputy head of MI6 Sir Mark Allen, MI6, MI5, the Foreign Office and Home Office for their alleged complicity in his torture.
For 10 years British politicians like Jack Straw, Gordon Brown and David Miliband have flatly denied that the British state was complicit in torture during the war on terror. But new evidence in Mr Belhaj's case appears to strongly challenge those claims.
In one of Gaddafi's luxurious offices, Mr Belhaj showed Channel 4 News piles of Libyan copies of top secret MI6 documents detailing phone numbers, passport numbers and the postal codes of Libyan opponents of Gaddafi living in Manchester as proof of the depth of collaboration between MI6 and the Gaddafi regime. Other documents in English listed the names and whereabouts of Libyan exiles in Iran and showed MI6 trading information gathered in Teheran with the Libyan regime.
Memorandum of understanding
Most importantly of all, the files also contained a crucial memorandum of understanding, dating from October 2002, detailing a two-day meeting in Libya between Gaddafi's external intelligence agency and two senior heads of MI6 and one from MI5 outlining joint plans for "intelligence exchange, counter terrorism and mutual co-operation". Channel 4 News is not naming the British officials but they are clearly identified on the document.
Other secret files relating to Mr Belhaj's rendition were discovered by foreign journalists during the fall of Tripoli in 2011, but these new files are far more detailed, wide ranging and, crucially, come from the Libyan side of the intelligence exchange.
The key memo appears to be the foundation stone of a "mutual co-operation pact" that ultimately may have involved the kidnapping and torture of Mr Belhaj and his subsequent interrogation by MI6 officers while he was in Libyan prisons.
Mr Belhaj is now suing the British government, claiming that his rendition to Libya and subsequent torture were all part of the same pact that led to the now infamous "deal in the desert" between Tony Blair and Colonel Gaddafi on 24 March 2004.
Although it may just be a coincidence, Mr Belhaj was indeed flown to Libya on March 8 2004, just two weeks before Tony Blair met Gaddafi.
Lockerbie appeal
The timing of October 2002 memo between MI6 and Libyan intelligence is also deeply surprising.
Just months earlier, in March 2002, an agent of the same Libyan intelligence agency, Abdel Basset Ali al-Megrahi, lost his appeal against his conviction for Lockerbie bombing - the worse act of mass murder in British criminal history.
The British government is trying to have Mr Belhaj's case struck out by arguing that all of the crimes committed against Mr Belhaj took place abroad and are therefore outside British jurisdiction. And that because of the involvement of the intelligence services, most of the material of the government's defence is covered by the official secrets act.
Unfortunately for MI6 and the British government, their use of the immunity of the official secrets act as a possible defence against Mr Belhaj's claims now appears to be jeopardy.
Thorough logs
As a tyrant, Gaddafi was always dangerously unpredictable. But when it came to espionage and the pursuit of their enemies, the Brother Leader was surprisingly thorough and methodical. At the heart of his thuggish regime at home was an unstinting East German-like bureaucratic core.
Along with keeping tabs on his long list of enemies, his intelligence services also recorded every name of every MI6 or MI5 officer and every British politician who had dealings with his regime. Every contact was thoroughly logged and every secret MI6 and CIA cable translated into Arabic for his files. If the contents of this explosive Libyan intelligence archive were ever fully revealed, their contents could prove utterly damning.
On the evidence shown to Channel 4 News Mr Belhaj, now a powerful figure in the new Libya, clearly has access to large parts of that archive and would be able to detail in court many of the relevant secret MI6 files involved in his case.
Mr Belhaj insists that he will pursue his legal action until he receives an apology. "I believe completely in the integrity of the British legal system. When Tony Blair was sitting in Gaddafi's tent we were in prison undergoing many types of torture psychological and physical that have left their mark on our families to this day. I want to tell those who did these crimes in Britain that confessing to a wrong is a virtue. Making such an apology would be a courageous act."
FCO statement
A Foreign & Commonwealth Office spokesman told Channel 4 News: "Our position has always been clear - we are committed to ensuring that serious allegations about alleged UK involvement in mistreatment and rendition of detainees by other countries are examined carefully."
In regard to Mr Belhaj, the statement continued: "Civil litigation proceedings are underway, so we are unable to comment on the details of this case.
"The government has been clear that it stands firmly against torture and cruel, inhuman and degrading treatment or punishment. We do not condone it, nor do we ask others to do it on our behalf."
The first hearings of Mr Belhaj's case are scheduled in the high court in April.
This article originally appeared at Channel 4 News
Tags: tony-blair